Incepting the Thought - Philanthropy
I've always been interested in doing good by being a part of a philanthropic organization. Super unique and world shattering thought, I know.  I'm sure everyone person had that thought at least once in their life. Certainly in the past few weeks as a result of Hurricane Maria's devastation of Puerto Rico.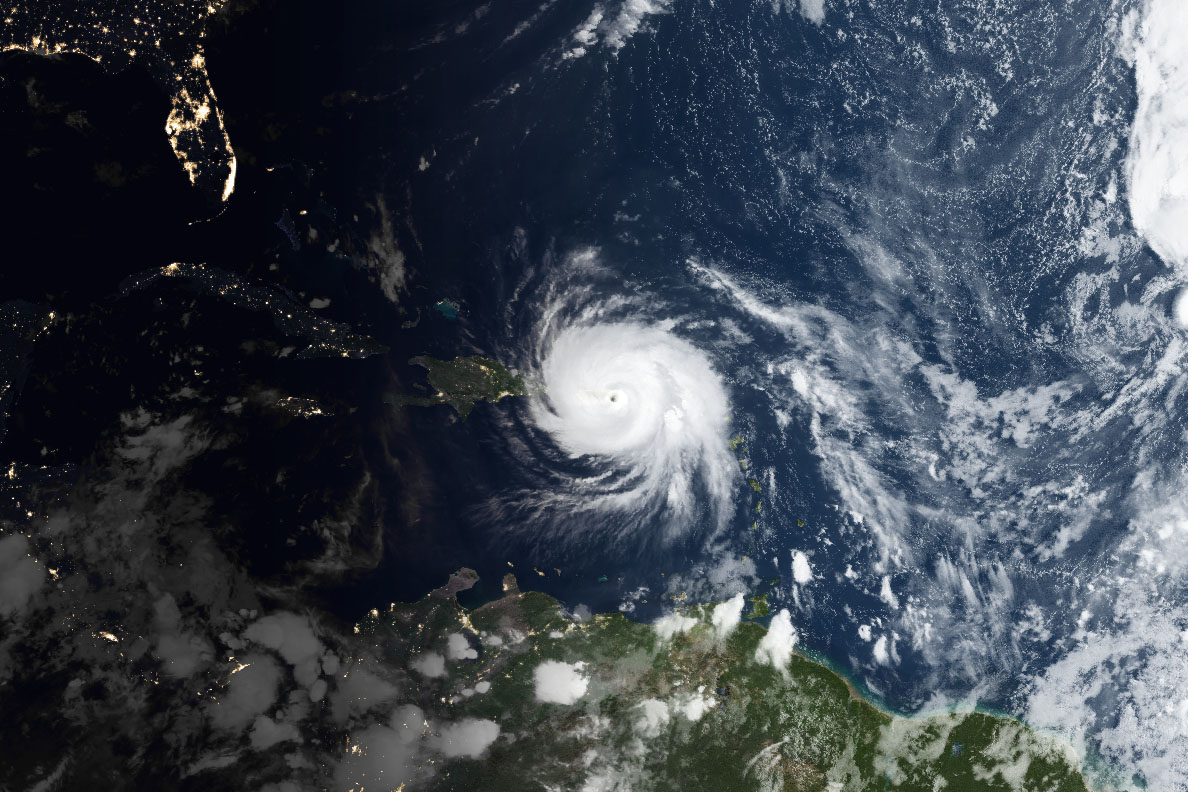 Compliments of NASA 
Hurricane Maria
For those that would like a summary from this article:
1)      Maria made a direct hit near highly populated areas, bi-secting the island
a.       Fifth-strongest storm EVER to hit the US
2)      Drenched Puerto Rico with record rainfall
3)      Geography of island exacerbates wind, rain, and flooding, [as well as rescue efforts]
4)      Sagging economy prior to Hurricane Irma, which hit not even one month before Maria
The devastation is unreal. Nearly half of the entire population of Puerto Rico does not have access to drinking water.  This is after more than a week of recovery efforts. The entire infrastructure for the island fell apart: "including the power grid, the cellphone towers, the banking system."
Could you imagine if that happened to the entire island of Oahu? It would be chaos for your life. All the money in the world can't save you if there's no electricity or cell phone service.
Typically, leaders after a crisis are expected to be just that, leaders. Hope is what carries the community through a troubling time.  But this was so bad that the San Juan Mayor was on her metaphorical hands and knees, "I am begging, begging anyone who can hear us to save us from dying." 
While I am not going to go into the politics of the aftermath, I can go into how it makes me feel. Just writing this makes my heart hurt, my eyes water, and thoughts of "how can I help" race through my mind.  It's times like this that I reflect on how lucky and blessed I am. To have been afforded the luxury of a loving family who gave me every opportunity to be successful. Who continues to be involved with my life and provide a supportive network on my way there.  Because some are not that lucky.  A lot of people feel the same way, either directly or indirectly, and give back how they can for the community. Examples are Jay Shidler's recent $117 million donation  or Eddie Flores' $1 million donation towards education as a pathway for our future generation's potential success.
How I got introduced - Networking
With that said, I got introduced to the Rotary Club of Kahala Sunrise through a Rotary networking event at Kaneohe Yacht Club.  If you've ever met John Strandberg, you would need no explanation.  A hard working, kind, generous individual, his personality is as large as he is (in the best way!). He is the President of Hawaii Tech Support and the President of Rotary Club of East Honolulu.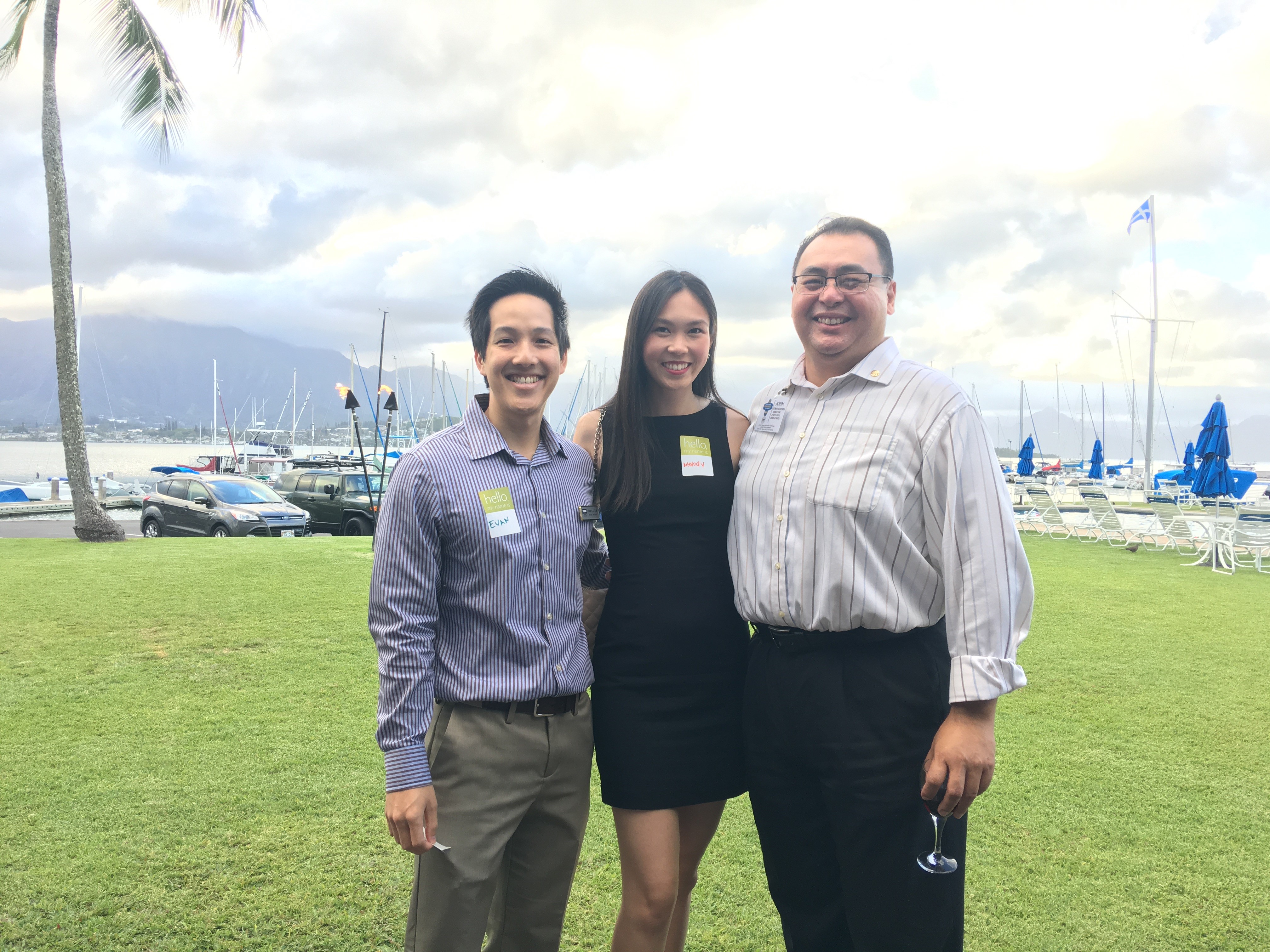 Left to Right: Evan Tom, Melody Lai, John Strandberg
I ended up meeting a Tom at this event. We got to talking and I found out that:
-she went to Punahou
-graduated in 2004
-knew my brother
-took a Tom "family" photo at graduation with all the '04 Toms
Small freakin world.  Kimberly Tom was the incoming (and now acting) President of the Rotary Club of Kahala Sunrise and recruiting hard. Her pitch was: we are YOUNG, we are ENERGETIC, we are ACTIVE, and we are FUN. The non-rotary rotary is what it sounded like. She certainly is that and more. And true to form, the entire Rotary Club of Kahala Sunrise reflects that spirit. Everyone is SO welcoming, kind, and helpful. It's sickening. I couldn't not join. It's always the free food that suckers you in, and the Rotary Club of Kahala Sunrise has it. At least as a guest, hah! But really you stay for the people and the purpose.
The formal definition of the Rotary International via Wikipedia is: "an international service organization whose stated purpose is to bring together business and professional leaders in order to provide humanitarian services, encourage high ethical standards in all vocations, and to advance goodwill and peace around the world." My short definition is to be and live life as a good human on this earth and leave it a better place.
Rotary Club of Kahala Sunrise
What separates the Rotary Club of Kahala Sunrise to me is that I am a part of the next generation of leaders and leadership already taking place. We are one of if not the youngest Rotary by age and it's really the young ones that are currently in leadership taking us to the next step. It's why you see the posts on Facebook or Instagram of our activities, the amazing photos and videos, and maybe even this post. It's why Chase Kurosaki, a former Punahou classmate, found me and how we reconnected. It's also why I reached out to Tyler Dos Santos Tam, Executive Director of the Hawai'i Construction Alliance, to speak about his role and the importance of Unions in Hawaii.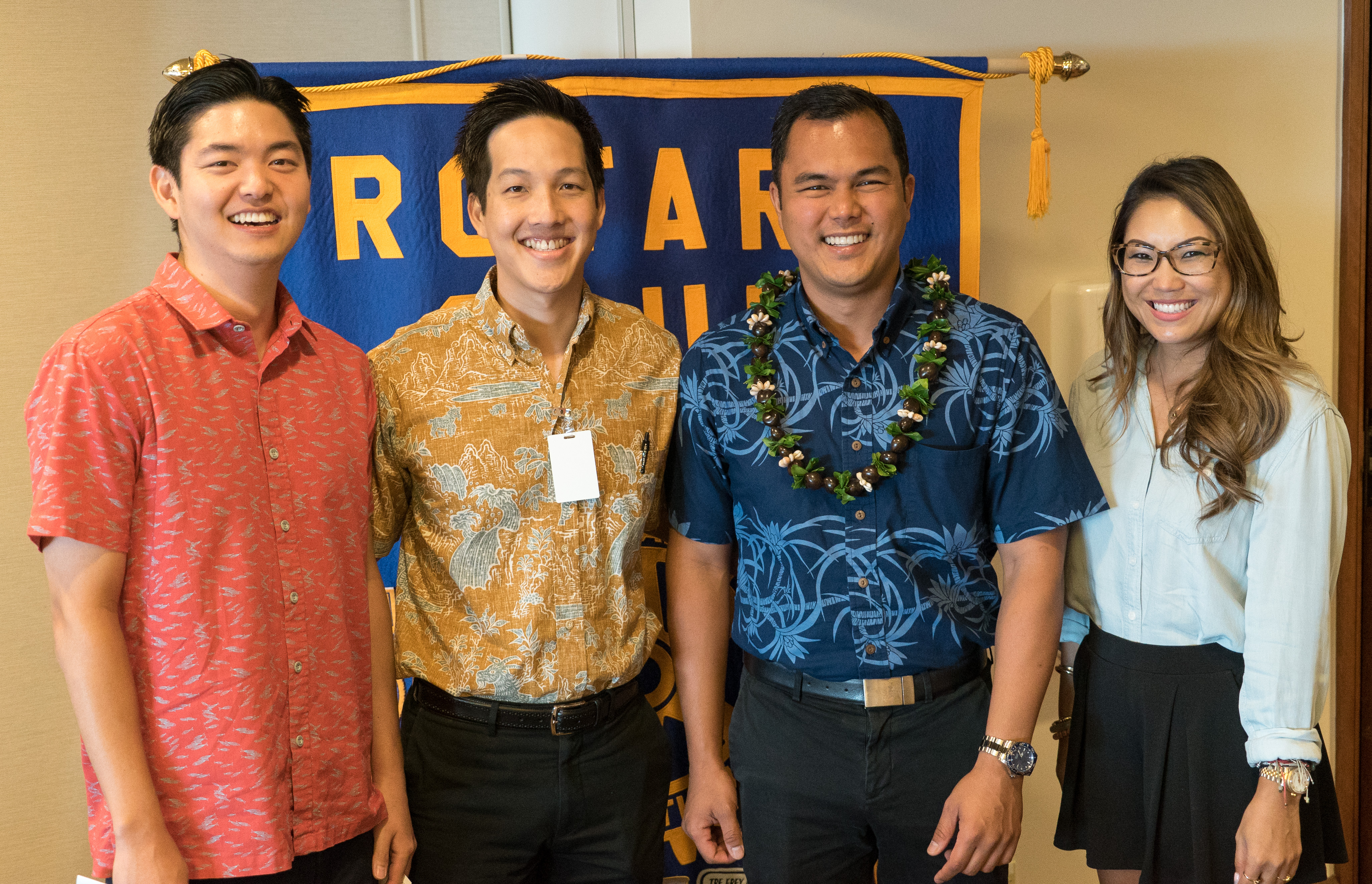 Left to Right: Chase Kurosaki, Evan Tom, Tyler Dos Santos Tam, Kimberly Tom 
Every week at our meetings, we have a speaker to introduce us to important topics in the community. A recent one that sticks in my mind is James Donnelly, Hospitality and Development Manager of Make-A-Wish Hawaii. Did you know that the most wishes granted was by John Cena? And the second being Justin Bieber? Here, look yourself if you don't believe me! He spoke about how in the beginning, Justin Bieber would just say hi, take photos, and be on his way. After some time, he now spends quality time to make an impact on people's lives. For many young children, these leaders are the candle of hope in a very windy world.
Tyler just came to speak yesterday at our weekly meeting. It was kind of funny, even he, the Director of the largest collective group in the industry and third largest industry in Hawaii, still was a little anxious about his speech. But true to form, he had a fantastic speech about his life and goals in his role in 25 minutes.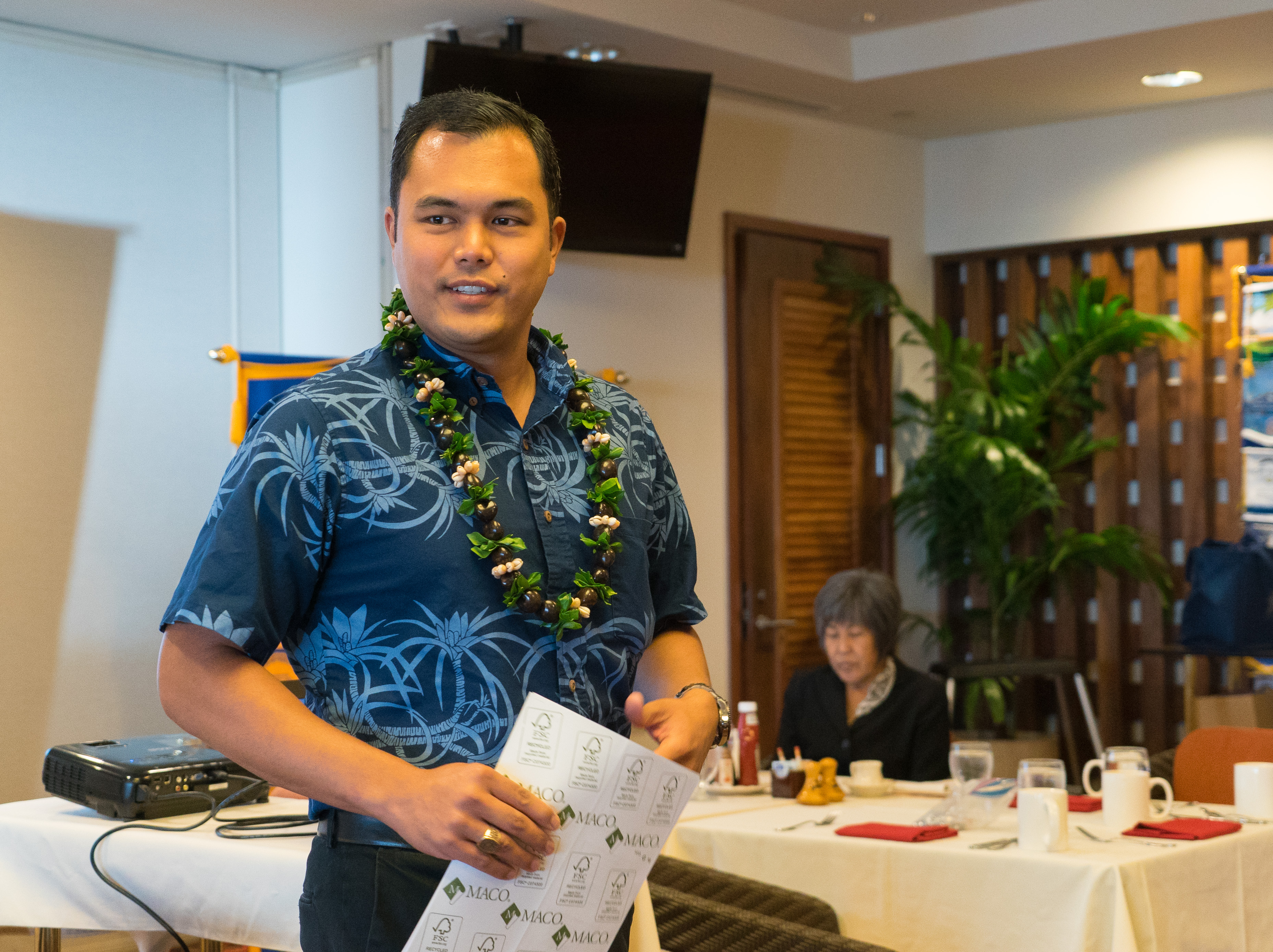 He started with his history, where he came from. A little reminiscent of Obama maybe? I kid but not really. Even in school, everyone in our class could tell that he would be the guy. After all he was our Class President. Excuse the potato quality. I am from Latvia. (internet meme)
What I love most about being in this industry now is that I have the opportunity to learn and explore all things related to business. It is hopefully my expertise after all, and like construction is the middle of a web of interconnecting industries that drive the economy. If you buy a house, you probably need a loan and at the least need to pay insurance, real property tax, maintenance, electricity, water, sewer, and waste. You need to furnish the house somehow, and that means a lot of new stuff. Lot of new jobs, lots of people employed, lots of spillover effects to the economy.
One of the most pressing issues we're facing now in Hawaii is affordability of housing. It's important because taking away the ability to live from the middle class has far reaching effects. If even the middle class cannot afford housing, where do they live? Homeless is another huge issue for us on the island. The driver to the economy is the middle class through their spending. A strong middle class creates a vibrant community that we can all be happy in. Hear what Tyler has in the works to touch on that issue.
The Why
When I was younger my goal was always to get rich. For a lot of people it's the same and there's nothing wrong with that. The difference comes in the WHY they want to get rich. And ultimately for a lot of people it's the same. To provide for themselves and those they love; to give the future a chance at having the same life and opportunity for success that they had.  I'll always remember the quote by President Scott at Punahou School, "With great power comes great responsibility."  As your candle gets larger, your fire shines brighter in the darkness to create that much more light for those around you.
I'll be honest, I'm still trying to work these philanthropic activities into my candle building quest. Kimberly joked yesterday that I wasn't going to show up to the meeting, and Alicia joked that I was just going to skip her upcoming dictionary project last minute after committing. These people...  Well jokes on them, I AM committing to Alicia's next dictionary project, and I AM committing to the Salvation Army Thanksgiving Lunch. Or maybe that was their goal all along.
If you are interested in getting involved, or at least learning more about what the Rotary Club of Kahala Sunrise does, check out our new website compliments of our YOUNG and ACTIVE members, or contact me at 808.722.8665 or evan.kc.tom@gmail.com.