Stats Matter
Have you ever had a conversation regarding investments and felt something lacking? Well you aren't alone! When it involves money, there certainly is a difference to believing "this is a good investment" and being shown the data and coming to the conclusion. It's the same thing as a girl telling you that you like her before coming to that conclusion. You feel me? OK so feelings aren't 100% chemistry and neither is real estate. But as the biggest investment of your life, it ultimately should be just that, an investment. And in a nutshell that's how I approach real estate. You can see the prequel to this post here, which goes over the 2018 Economic Outlook.
My goal by the end of this post is to let you come to the same conclusion I did in researching the WHY behind the September 2017, Honolulu Board of Realtor's Monthly Housing Statistics. Or conversely, WHY NOT, and at least come away with some COLD, HARD, DATA. Data Doesn't Lie; People Do!
If you are new to understanding how to read real estate terms, read up on the basics here and check back.
Or if you just want to read the summary click here to get to the bottom of the article.
Monthly Housing Statistics September 2017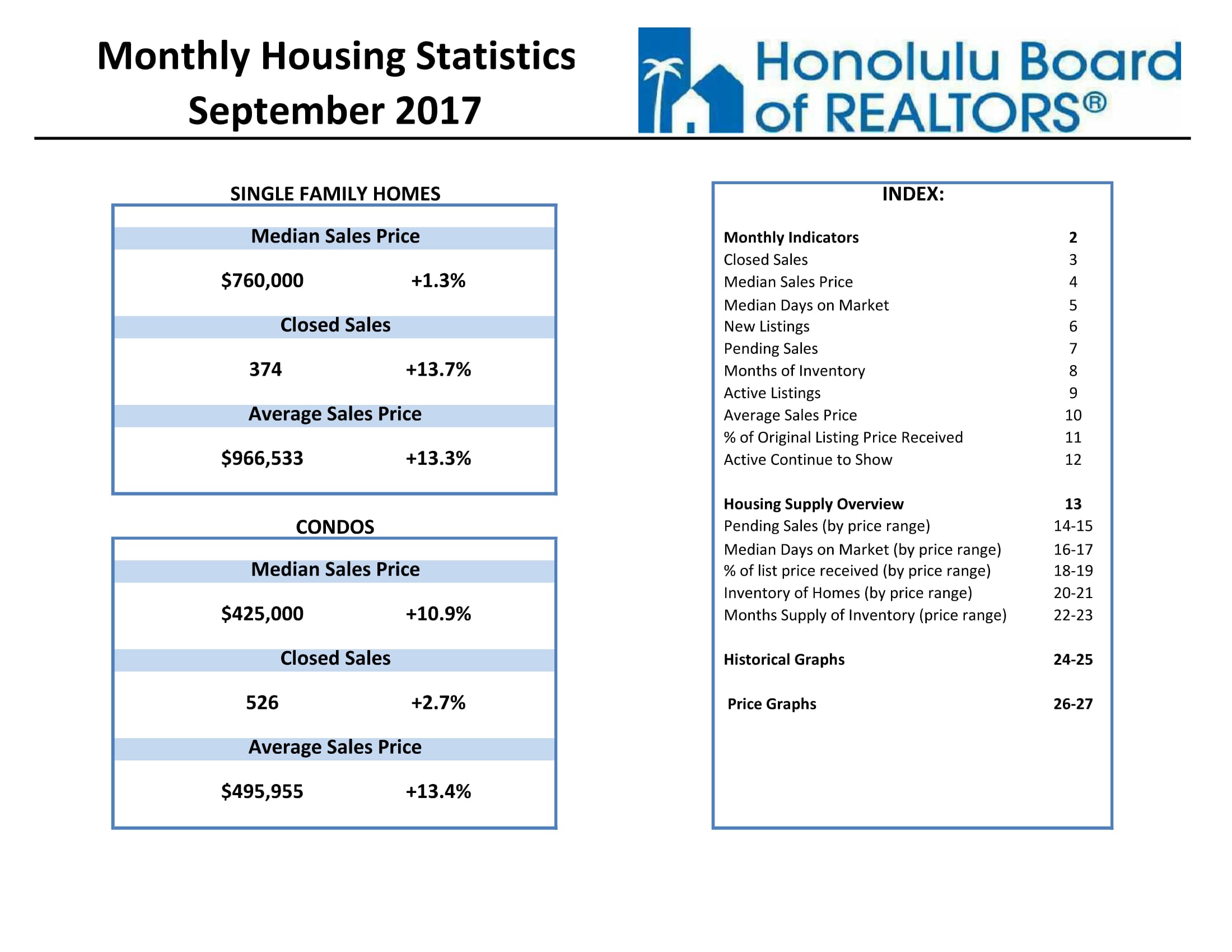 Monthly Housing Statistics September 2017, courtesy of HBR
Remember when you were young and always asked your parents, "Why?" That's what I ask myself when I look at these stats. And a lot of both the questions and answers come in the form of relationships to other data sets, both monthly and yearly to possible come up with the trends. No offense to articles like this, but does it really tell you anything new from September summary photo above?
If you want to follow along, pdf downloadable here.
What jumps out?
If this is your first time looking or not familiar with the Hawaii market, you more than likely will ask these lines of questions:
 "Why is the median prices for single family homes AND condos so expensive?"
"Why is there such a difference between the single family home and condo median sales price increase?"
"Why are the closed sales so different between the two?"
 "What's the relationship between them?"
Let's explore them
High median price
Context matters. If I were to tell you that the trend of year over year growth was polled and is line with the majority of the country, would that change your thoughts? See article here.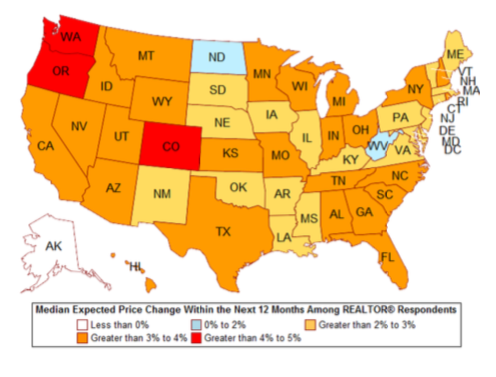 REALTORS®' median expected price change over the next 12 months by state level
Or compared to other large cities in the US?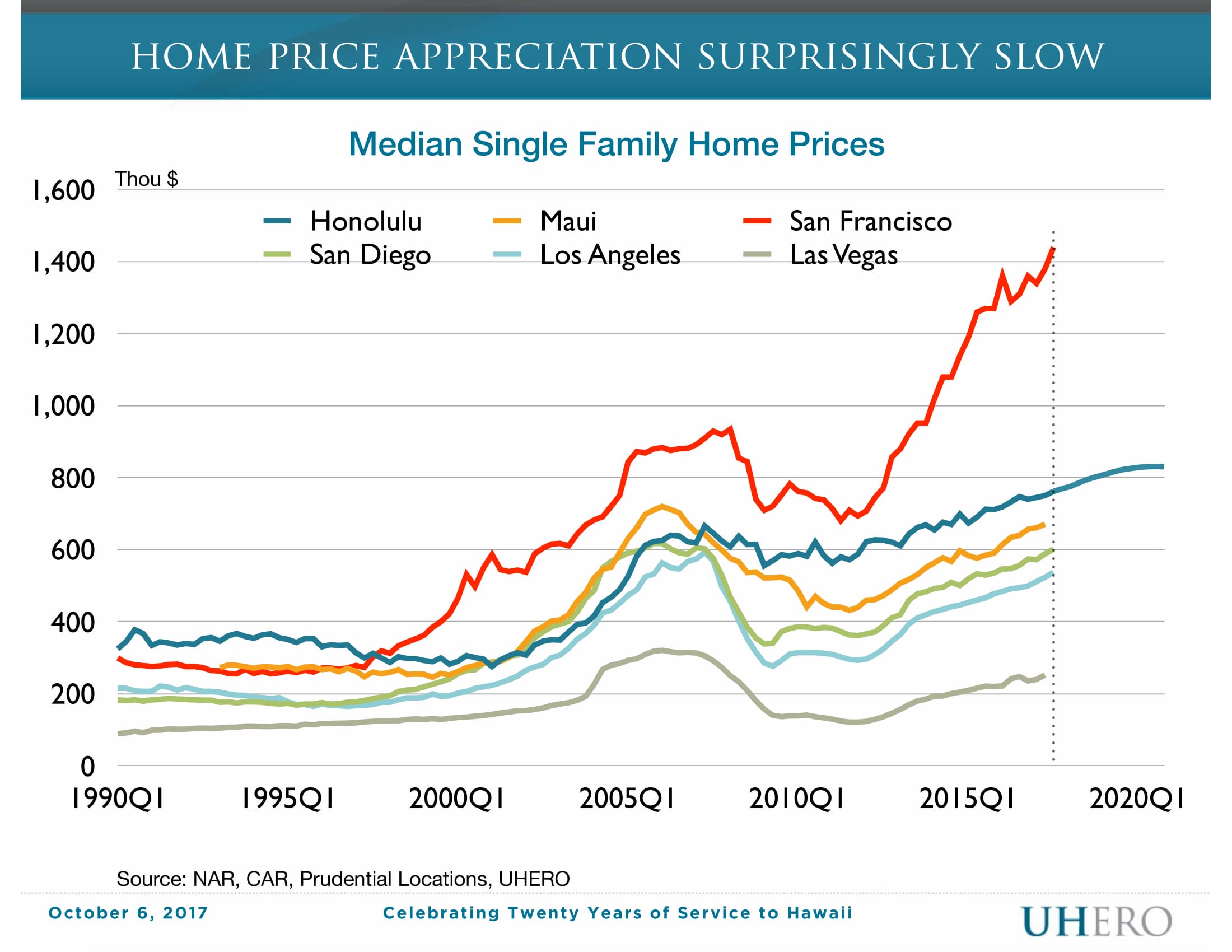 Home Price Appreciation compared to other major West Coast Cities
How about comparing it to the historical increase from past economic cycles?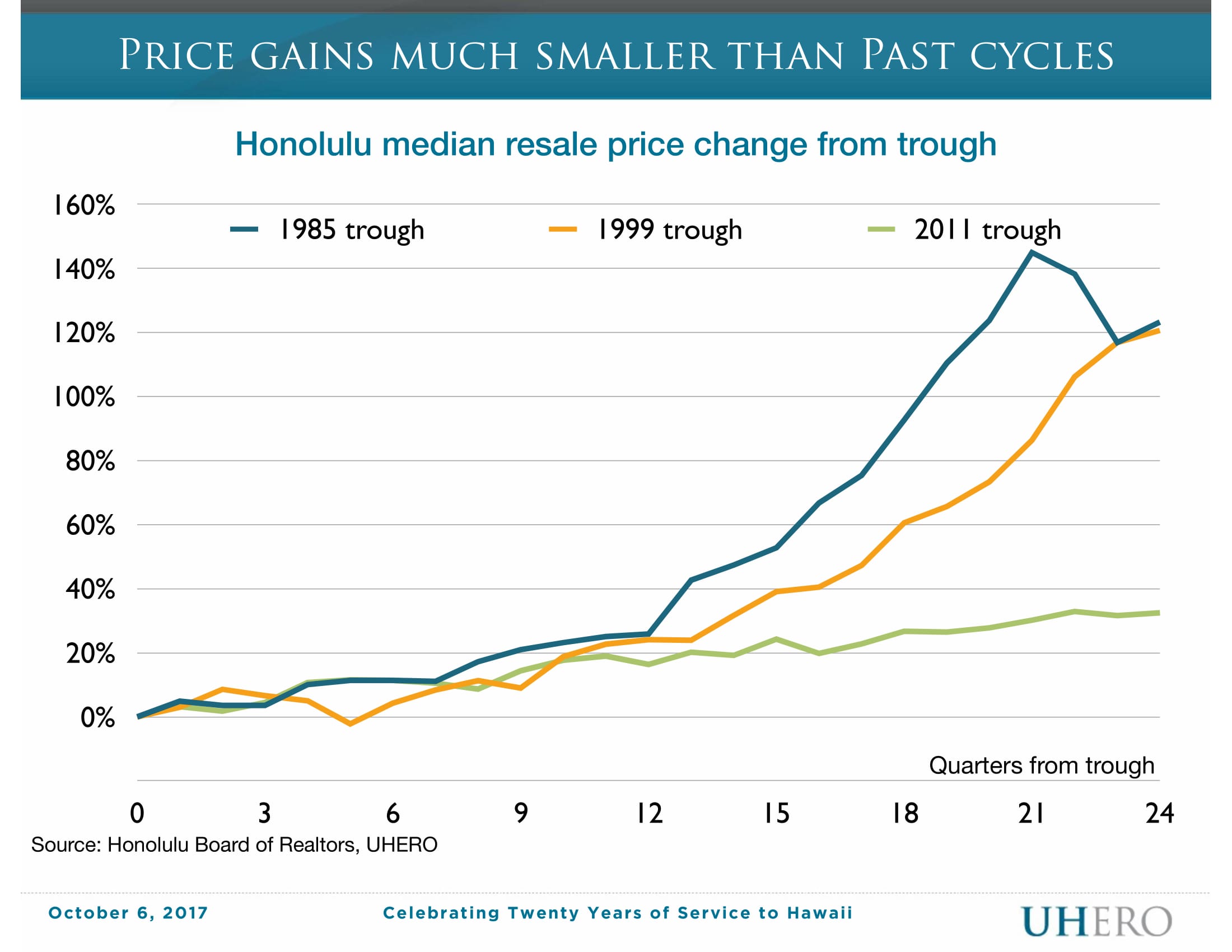 Median sales price change versus previous real estate cycles 
Compared to other markets, Oahu is both very stable in growth over time, including the past two downturns of the Japanese boom (1990's) and the Mortgage Crisis (2008) and reflects the constant growth of this cycle as 3-5%. See below for that fact.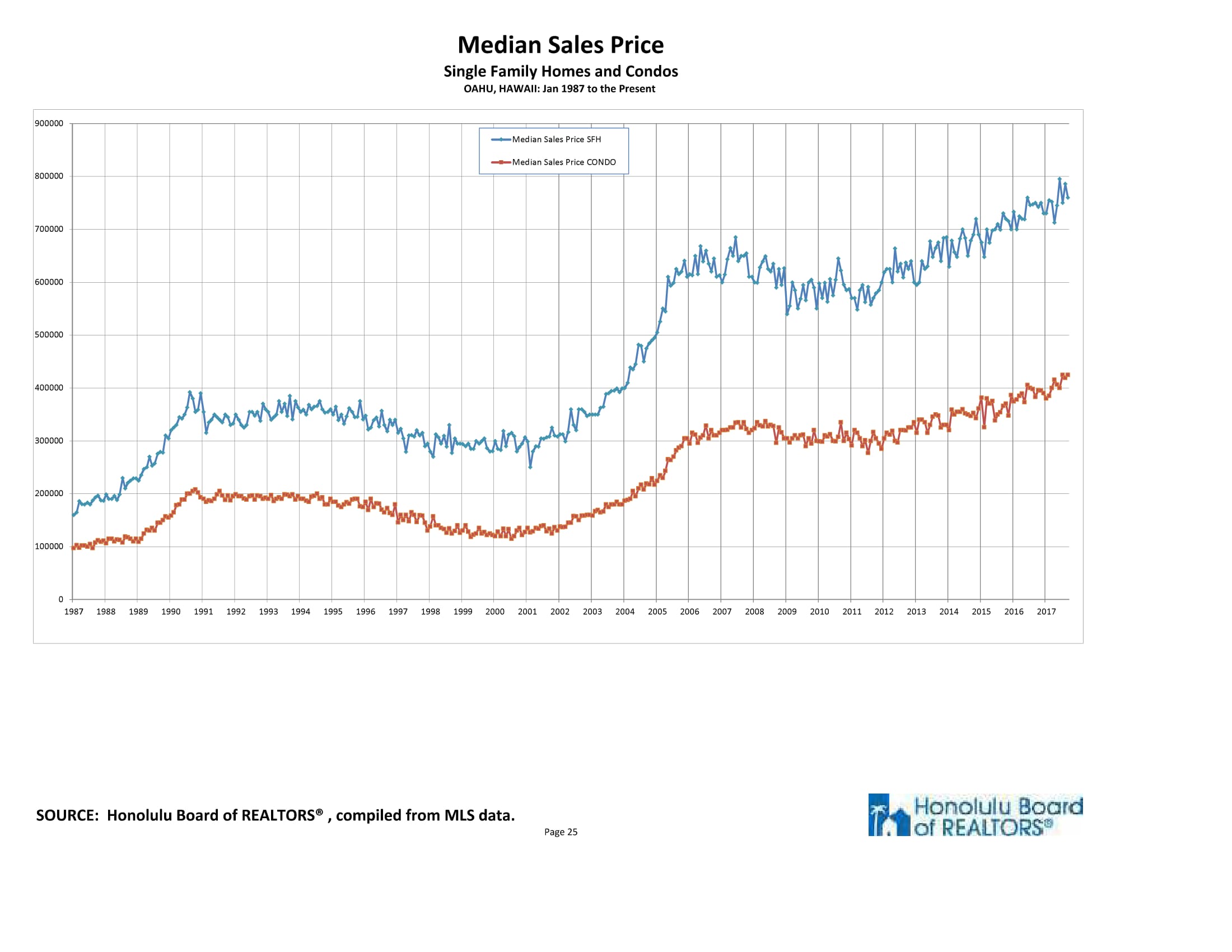 Historical Median Price Change on Oahu, from 1987
Single Family Home and Condo Median Sales Price and Closed Sales Increase
The easiest way is to segment the question between single family homes and condos and bring it together in conclusion.
Single Family Homes (SFH) Median Sales Price Change
Lot of homes sold, not much movement in price? Shouldn't it go hand in hand? Yes and no. See here for limitations of monthly statistics. So let's take a look at trends:
SFH Year to Date Median Sales Price Increase
Through August 2017 – 3.7%
Through September 2017 – 3.4%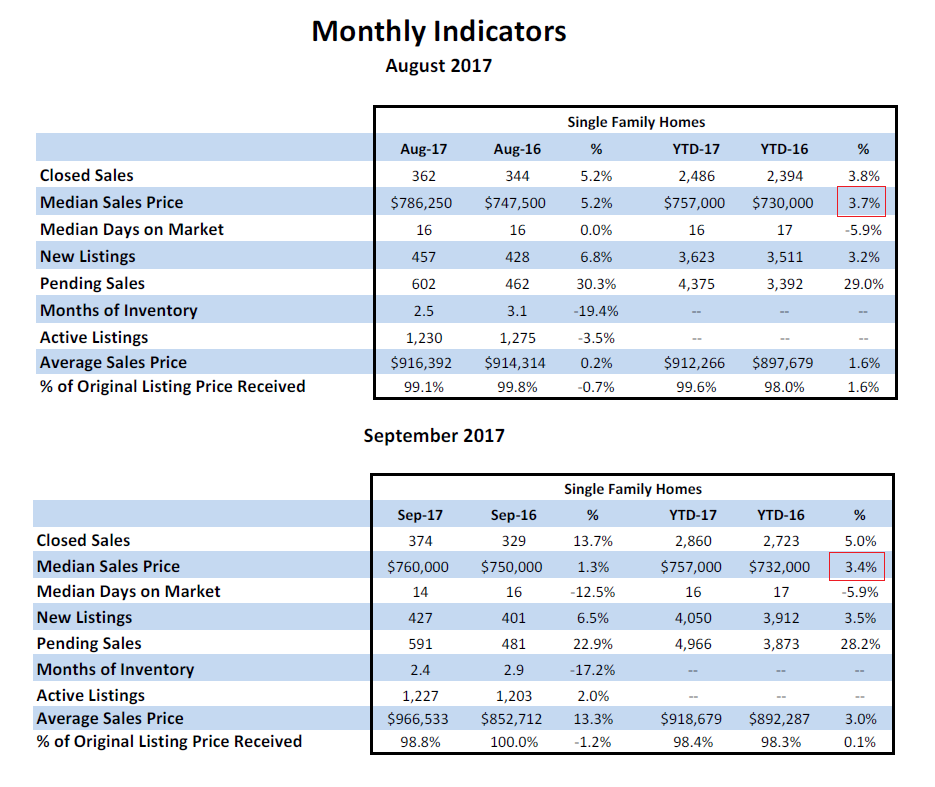 Courtesy of HBR
You then compare it to the monthly increases below and see that there is a high amount of variation month to month, with the year to date a more accurate overall representation.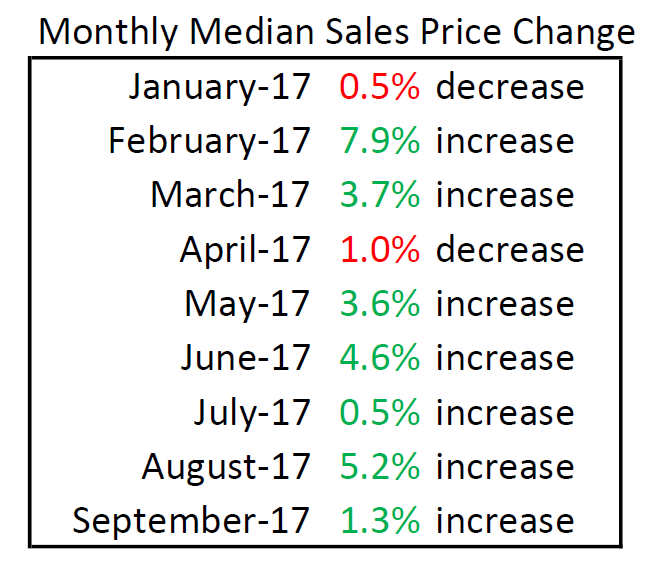 Courtesy of HBR, see graph at beginning of post
SFH Closed Sales
I've been told that 50% of all sales on Oahu from 2010 happened on the west side. Is it true? Well the "Ewa Plain" neighborhood accounts for 614 of 2,860 total sales year to date. That's 22% of all Oahu homes sold in Ewa. The year to date change of 2016 to 2017 through September is 541 to 614, representing a 13% increase in closed sales in Ewa. With a lot of the major single family developments all being done in Ewa, the prices, sales, and almost any other statistic will be highly effected by what happens in Ewa.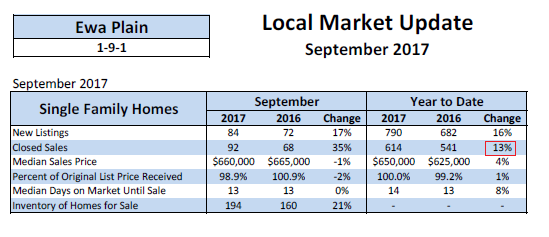 Local Market Update September 2017 - Ewa Plain courtesy of HBR
Condo Median Sales Price Increase
There's two major points I'd like to discuss that I believe has driven up the prices of condos.
Affordability
Real Cost of a Median Home
How important is affordable housing in the market? What effect does it have on the housing market? This month is a good indicator of that effect. Let's use an example of the monthly cost of a SFH at the median sales price.
Price: $760,000
Loan: 80%
Cash to Close: $166,500, 20% down payment plus closing costs
Total Monthly Payments: $3,400
Other Housing Costs (all utilities): $600
Income Qualification: $95,000
How many people make almost $100,000, have over $150,000 in the bank, and are acceptable paying $4,000 a month post-tax? That's the real effect a lack of affordable housing has on the population to enter the SFH market.
Median Income Statistics
Median Family Income for Honolulu, last 6 years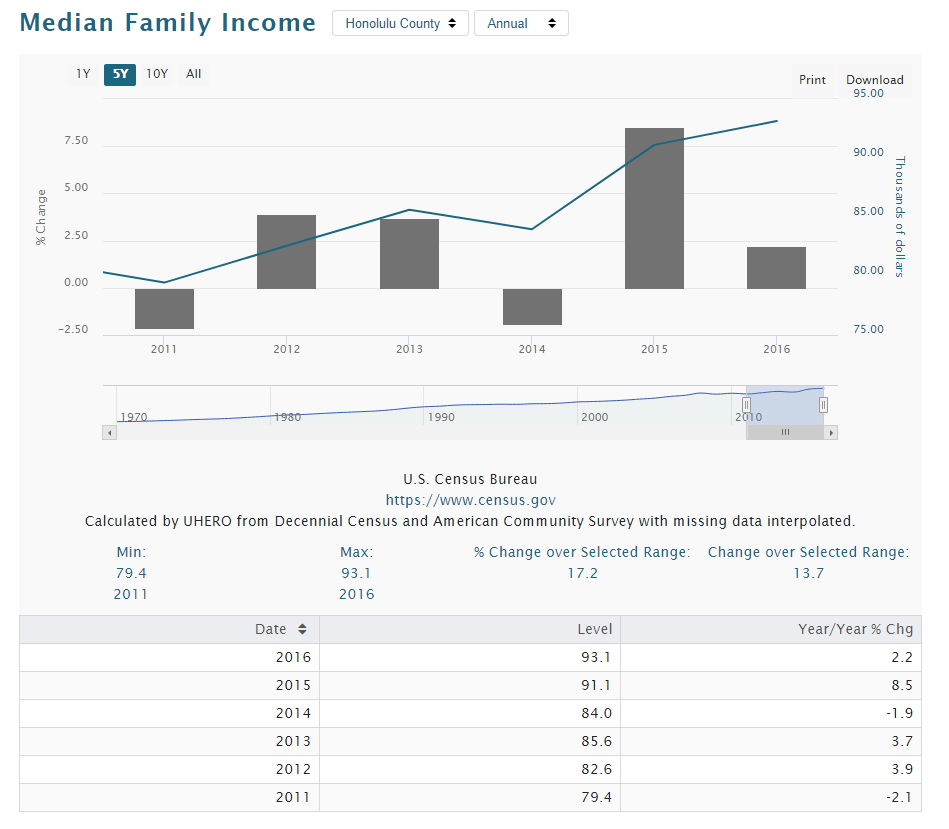 Complements of UHERO, link here
Averaged out, the median family income increase has been 2.4% yearly the past 6 years and trails the median sales increase of single family homes significantly.  The result of the shrinking middle class is an inability to afford a SFH and pushes them into condo-land. You see it with the younger generation in:
-high student loan debt
-longer 'living with parents' years
-lower income opportunities or mobility
-lower savings ability
Condominium Developments
Just like noted above, new developments significantly shift the landscape of real estate. The new condominium developments completed since 2014 include: Park Lane, The Collection, Symphony Honolulu, Ritz-Carlton Residences, Waiea, 400 Keawe, Waihonua, 801 South, and One Ala Moana. Out of those, only 2 resemble affordable in 400 Keawe and 801 South. Market prices now for 2 bedrooms are in the $600,000 for those. What these developments have done is shift the inventory of new condo's on the market significantly upward.
Condo Closed Sales Increase
The breakdown for condo's tells a different story. Ewa Plain represents the 4th largest area for condos, representing only 9% of the total closed sales. Waikiki represents the highest with 844 closed sales, or 19% of the total closed sales.
Another way to look at growth is to reference the historical data. Last year, condo closed sales increased 8.4% year over year versus 5.8% this year (so far).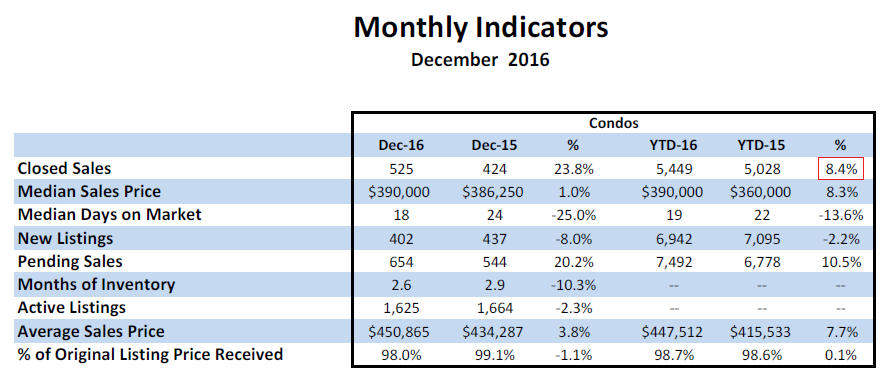 courtesy of HBR
It also reflects the seasonal trend downwards from a very strong last 2 months, with July and August Monthly Stats reflecting a 7% and 19.5% increase in closed sales. See below for seasonal trends from the past 2+ years.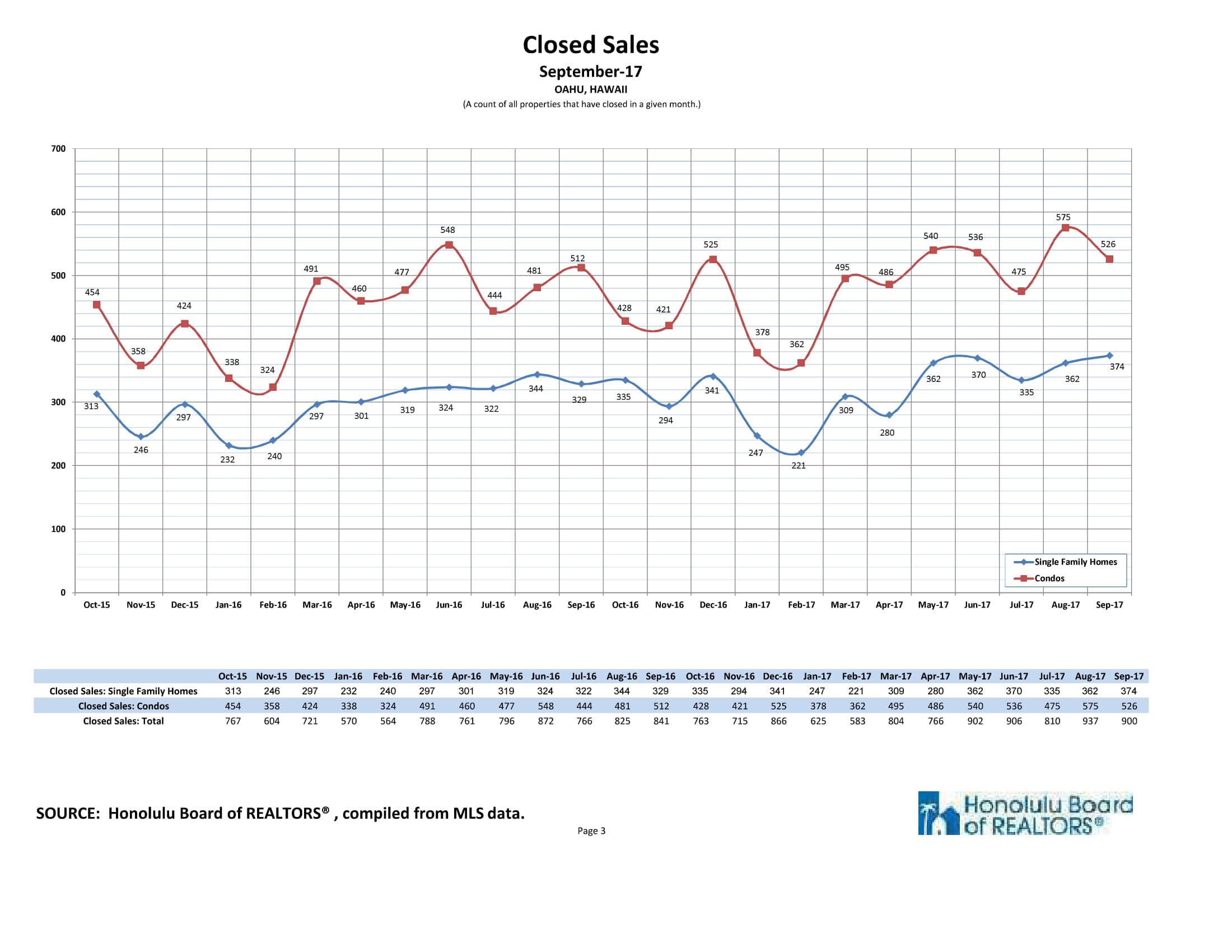 courtesy of HBR
Tying it All Together
Hopefully you were able to make it this far because it's where the good stuff is. The biggest indicator of previous cycles are reflected in median sales price increase. The good news is that it's not there yet. If you see the past 2 cycles, there are significant trends that reflect the beginning and end of the real estate cycle, typically 8-10 years. This one's different, where it's been holding steady at a 3-5% increase year over year and that trend doesn't seem to be ending soon. See here for further proof from another of my blog posts.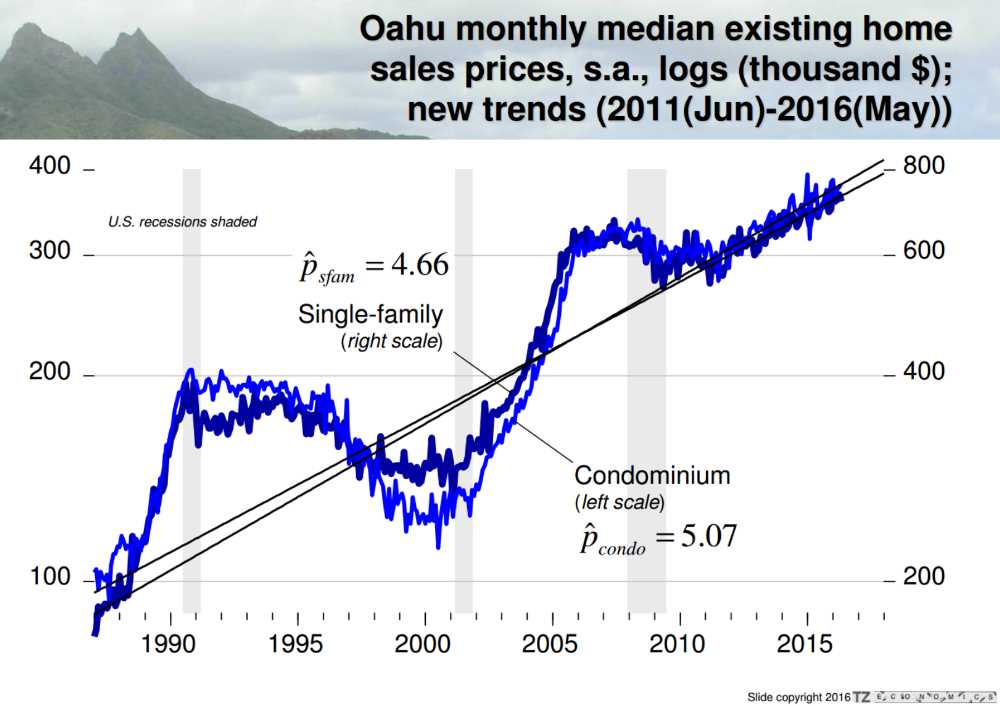 Courtesy of Paul Brewbaker
Paul noted in the last presentation earlier this year that it's been about a 4% median increase from 2010, and 5% from 2012 to current. You can see that there isn't the large spike that typically reflects bubble territory, or end of the cycle territory. When adjusted for inflation, you can see even clearer how we are historically versus the past 2 cycles.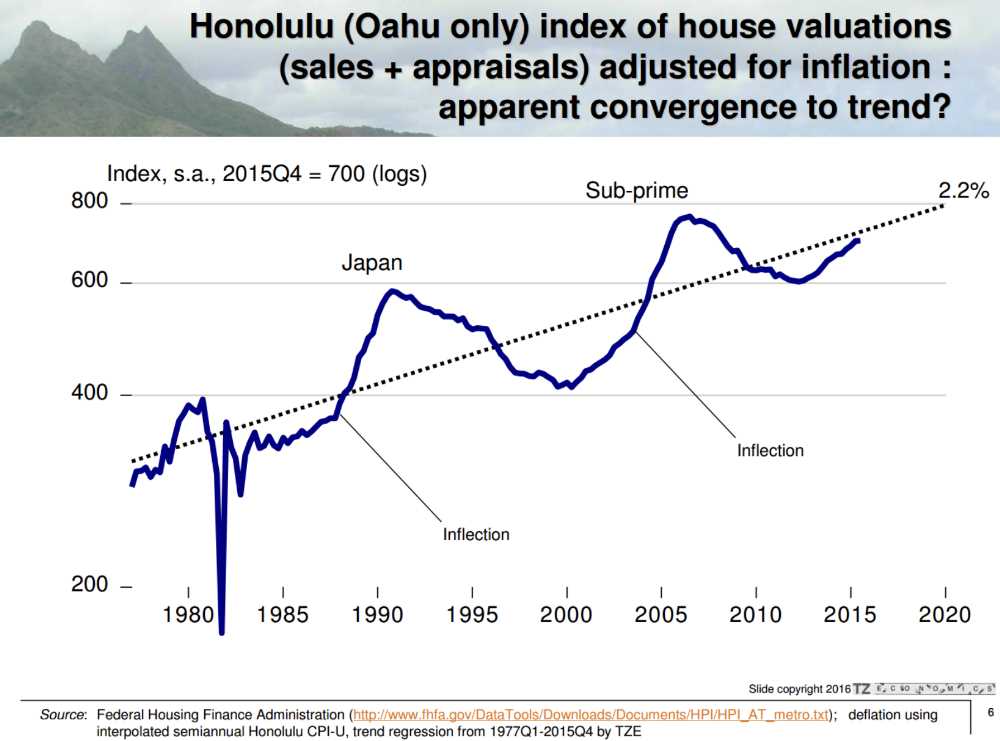 inflation adjusted courtesy of Paul Brewbaker
The other thing to note is to see how affordability of housing will affect the overall market. Is this the first sniff of the top of SFH prices? Is this the growing trend towards condo's? We are still seeing typical gains in the "affordable market", but the luxury market that typically drives the economy has slowed down to a snail's pace, starting with the 888 Vida Kakaako luxury project last year. New construction starts are slowing down as well, with no major new projects planned on the horizon that hasn't been started. We will see what next month brings!