Why I Went OR Why You Should Care
Years ago, I asked a good friend of mine who works in the IT industry how much time he spends learning out of his "work day". This includes new developments, trends, formal education, and from others. He noted about 30%.  I couldn't find much data to back it up outside of this, which states 30%, but I would absolutely agree with that. Part of being successful as an industry expert is education and is the reason I went to Friday's Agent Forum.  It's an almost quarterly event put on by the Honolulu Board of REALTORS®, specifically designed to provide REALTORS® educational content to aid in their success. The last agent forum in March 2017 included a number of very successful national agents and what their winning formulas are.
What caught my attention this time was the main presentation, Hawaii's 2018 Economic Outlook.  It only is the #1 question asked to REALTORS® after all. How is the market? Yeah, you know you've asked a REALTOR® that before. And it's an absolutely fair question. In my opinion, a good REALTOR® will be able to go both ways, small and large, in answering it. It requires perspective, in terms of both our daily grind in the "trees" of our neighborhood(s) and how it relates to the broader national and international "forest" market. As our top industry is tourism, it's very important to keep up with these markets as it points to our future. Or is it? Carl Bonham has some very interesting thoughts as the main speaker to say otherwise.

 from their website
The location of the Agent Forum was the Ko'olau Ballrooms and Conference Center, "Hawaii's premier venue for events located on the windward side." For those of you not familiar, it was named after the beautiful Ko'olau Mountains, with more historical information that can be found here. It is home to a large number of absolutely scenic hikes, Pali Lookout, and the towns of Kaneohe, and Kailua. It partially splits the windward and leeward portion of Oahu, with a further discussion noted here.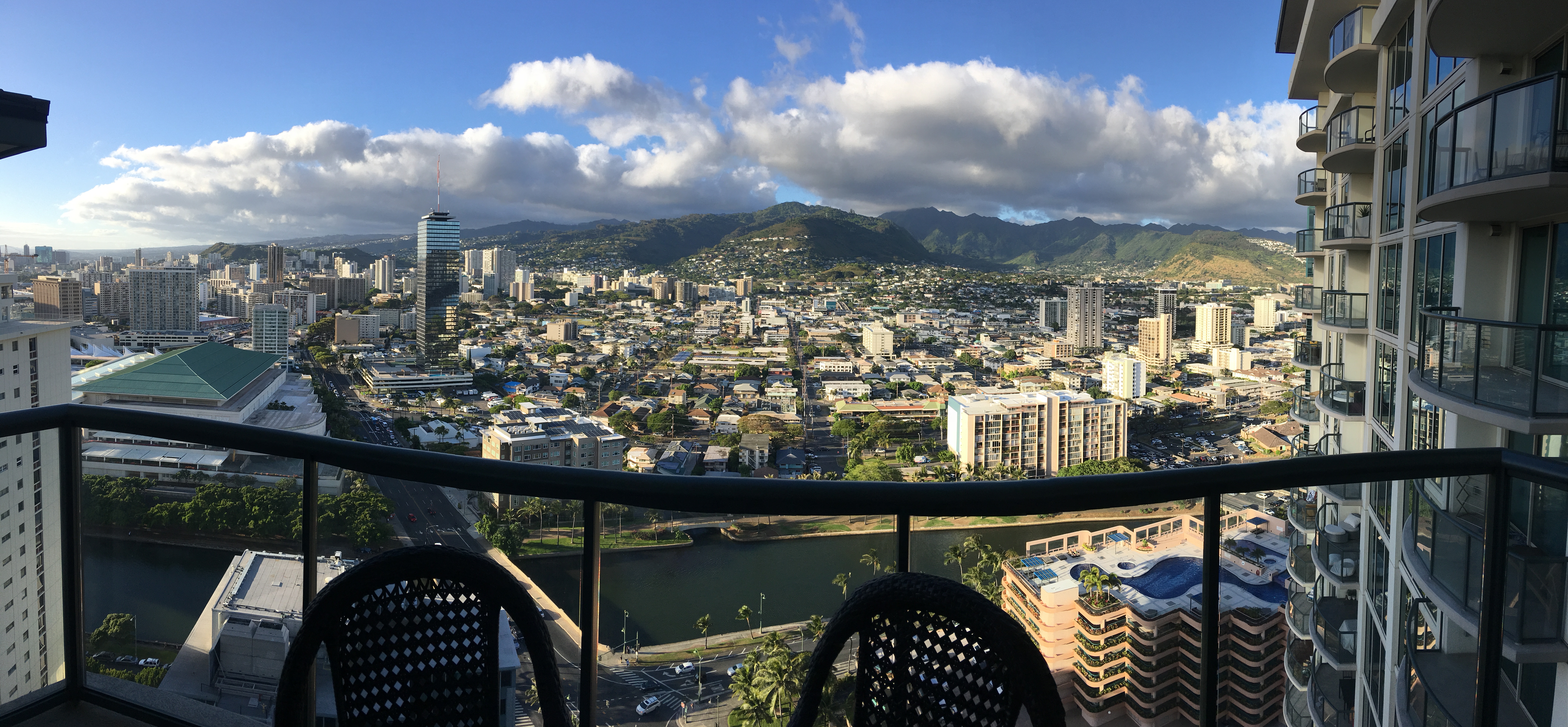 Photo from Allure, Waikiki, facing the Ko'olau Mountains.
The topics of the day included:
Cybercrime & Security
Panel: Kevin Inn (Moderator); Lesley Kizzee, Jason Aldridge, Lurline Johnson, and John Connelly
The Power of your REALTOR® Brand
Jon Rasmussen, Director of Advertising & Marketing, Becker Communication
Hawaii's 2018 Economic Outlook
Carl Bonham, UHERO Executive Director and Professor of Economics
Cybercrime & Security
Highlighted by Jason Aldridge and Lesley Kizzee of Title Guaranty, the conversation really centered around the importance of being aware of the growing threats to individuals, the ways that hackers get in, and the protections to take against it. When I previously worked at Title Guaranty, 2016 was the year of the largest increase in wire fraud attempts and attempted theft of sensitive information targeted to the real estate market. The threat is absolutely real. There was one case in which as a result of a hacked email, a buyer wired his closing funds due in the amount of hundreds of thousands of dollars to the hacker's account instead of the escrow company. Yes, Interpol got involved with this case. The buyer couldn't close, the seller couldn't get his money through no fault of his own, and overall a terrible and legally speaking a very sticky situation for everyone involved.
Other cases outside of the real estate industry include: Equifax's data breach which affected 143 million American consumers, Yahoo's data breach which affected every single account to the tune of 3 billion accounts, and Russian election hacking in the 2016 Presidential Race.
My advice to you as a buyer or seller is to make sure the instructions given to you about your money is absolutely correct.
You can do this with a combination of:
-calling your agent to a verified number to confirm instructions given in writing by a reliable account
-confirming those instructions with your escrow agent by phone to a verified number
-using a REALTOR® of a company that has the resources to keep your data safe and a policy that will protect your information
This is a large and growing threat and it very, very important that you are aware of this to protect yourself, your data, and your money.  Ask your REALTOR® about what they do or what you can do to be safe.
Lurline Johnson spoke about rental property scams, see below for video on how to protect your property listings from rental scams.
John Connelley also provided some tools and information regarding cybercrime prevention, with a video from the National Association of Realtors below:
The Power of Your Brand
Current HBR President Sue Ann Lee introduced Jon Rasmussen, Director of Advertising & Marketing at Becker Communications, by sharing about his past. When Jon was a baby, being fed Gerber by his parents, he asked, "Am I a Gerber Baby?" Later, when pretending to shave with his dad while growing up, he questioned him on the brand his dad used, Gillette. From a young age, Jon was influenced by the power of brands, even without knowing it. And now that he is in the industry, he started with, "How powerful brands are…how they affect your daily life."
He got the audience involved by a simple exercise, using partial tag lines to see if we could identify brands that crafted very successful marketing campaigns.
"Got…milk"
"Can you…hear me now"
"Just…do it"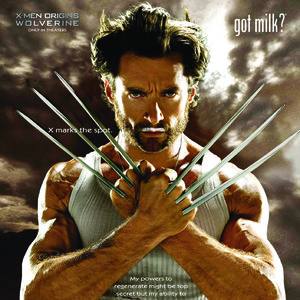 Combined campaign with X-Men 
Jon then got to his main point, "Everyone is a brand. You are a brand." When he was younger, everyone smoked Marlboro's. The iconomic Marlboro Man; tough, masculine, independent, American. It's ironic that at least four actors portraying the Marlboro Man died of smoking-related diseases. But him, he was an Old Gold. He was different. He did quit after all, noted as his "biggest accomplishment of his life." He also quipped, "Anyone that's addicted to the weed knows." The audience reaction was pretty muted for that joke. I give it a 4.20 out of 10.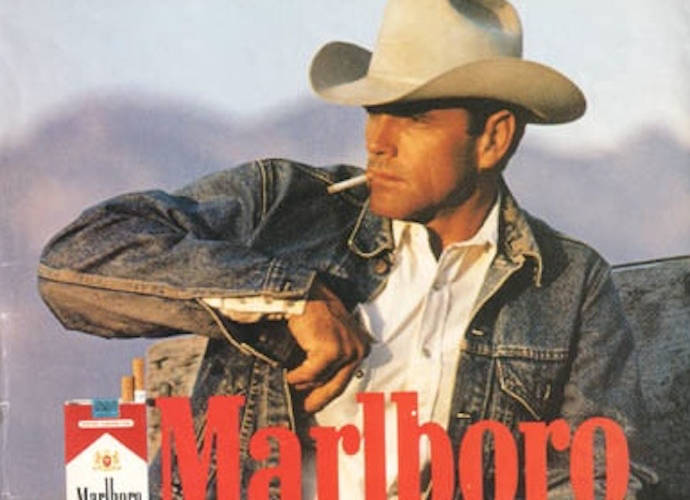 Is he really your bro? 
Brands can be affected by two things; recent events and mismatched brand identities. A very tragic incident in Vegas, the recent shooting which killed 58 and injured 489 negatively impacts the Vegas brand. Mismatched brand identities such as the Republican brand v. Donald Trump brand can also create a lot of friction, and as Jon noted, "rocks it to its core." He built his campaign on blowing up Washington, accomplishing that successfully by grabbing it by the…
He ended the speech with the call to action:
"You Build it"
"You Destroy it"
As a REALTOR®, I am my own brand. The name REALTOR® means something. Your name means something. When you are looking for a REALTOR®, ask them what their brand means. Ask them how they accomplish it. Ask them for their evidence. For me, you'll find all of this accessible online (eventually, hah!), through this website, through Facebook, through Yelp, and through all the content I provide both electronically or physical copies. Any questions you have you can access me via email, text, or phone. I was recently nominated for the Aloha Aina Awards for 2017 in my first year. It is one of most prestigious client satisfaction awards given to REALTORS® who provide exceptional service to their clients. I appreciate every opportunity to provide a full service to my clients, from the pre-real estate conversation to their post-real estate future and everything in between.
Slowing Ongoing, Despite Arrivals Boom
Dr. Carol Bonham, as the Executive Director of UHERO, came to speak about the economy and is the main factor in me attending. UHERO is short for The Economic Research Organization at The University of Hawaii. Established in 1997, its purpose is to be the "one-stop shop for local data and research".  It's the first time I heard about this and after looking through their website it's a better presentation and format than the other major one's I read that include:
-Department of Business, Economic Development & Tourism (DBEDT), State of Hawaii
because GRAPHS. Not only that but the blog and layout of the summary is very readable, see here for the most recent forecast. You can follow along with the presentation downloadable here.
He introduced his speech by talking about the outline of his speech, from the global outlook to local, and touching on our biggest industry, tourism, and the impact and future as it relates to the economy.
One of the most common ways that economists compare data points is by measuring REAL dollars, adjusted for inflation from a fixed point. This gives a much better indicator on the economy over time. Much of his powerpoint reflects graphs utilizing this method.
While US GDP is at an all time high and unemployment at a historical low, the question since the recovery from the 2008 Mortgage Crisis has been, "Why has the economy not rebounded as well as previous recoveries?" Looking at the below graphs, you can see that the real US median household income has just recovered from peaks in 2000 and 2007.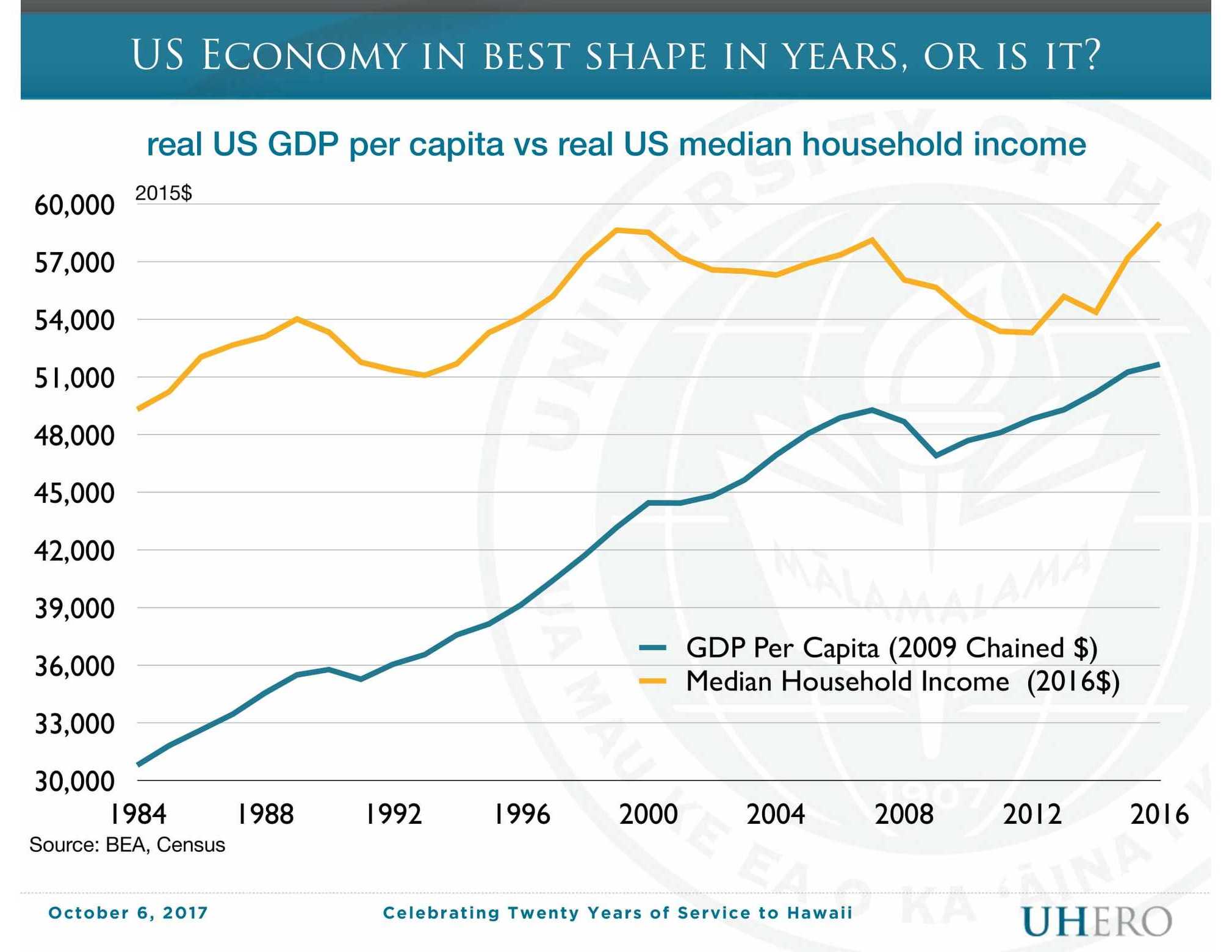 Look at top line, median household income revised for inflation 
US Unemployment at a historically low rate
There's been a lot of talk the past few years about income inequality and its impact on the US economy. While this topic has been increasing politicized and become a tool of determining party politics, the truth is that it has been happening.  See below for two examples.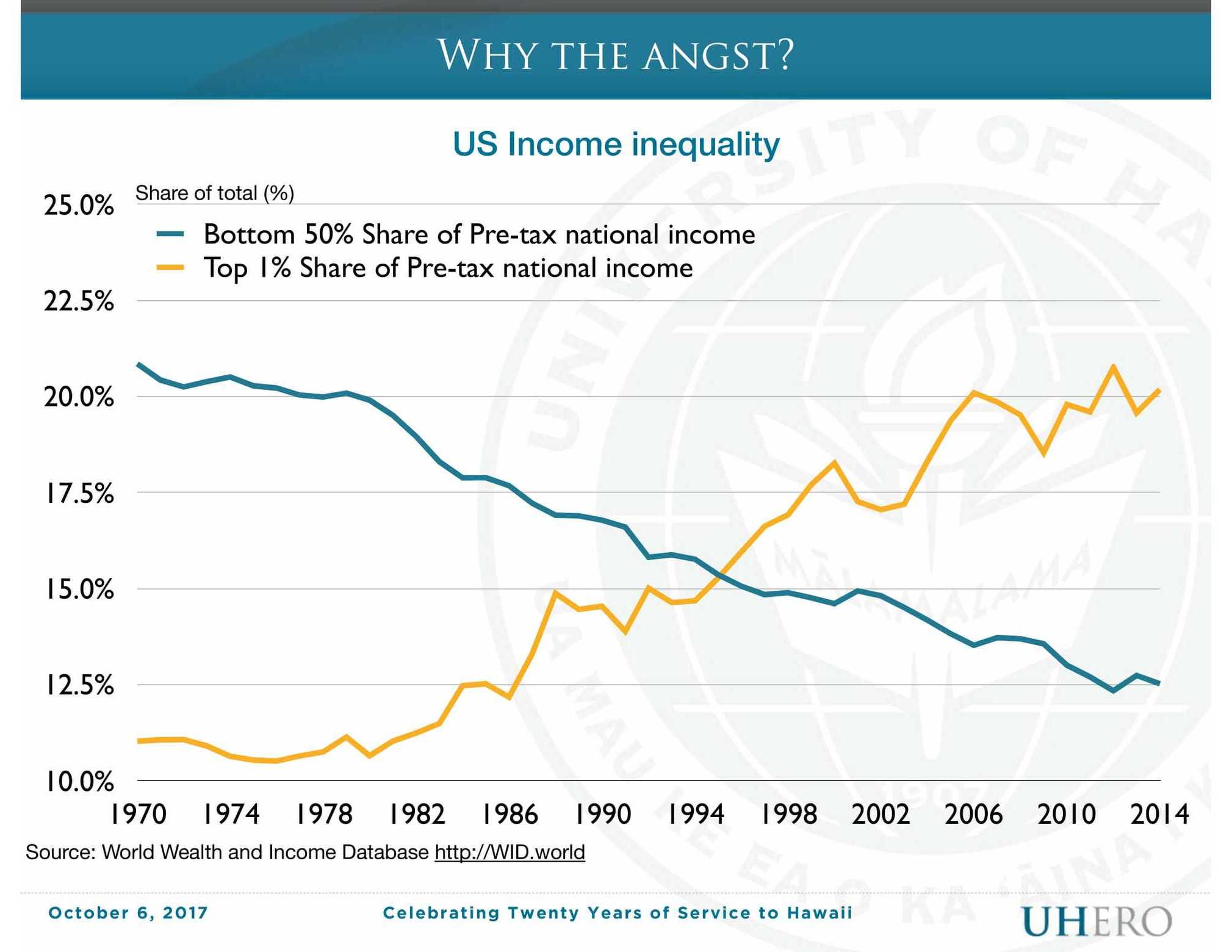 In with the top, out with the bottom 
A recent article from CNN on September 27, 2017 shows it in different way.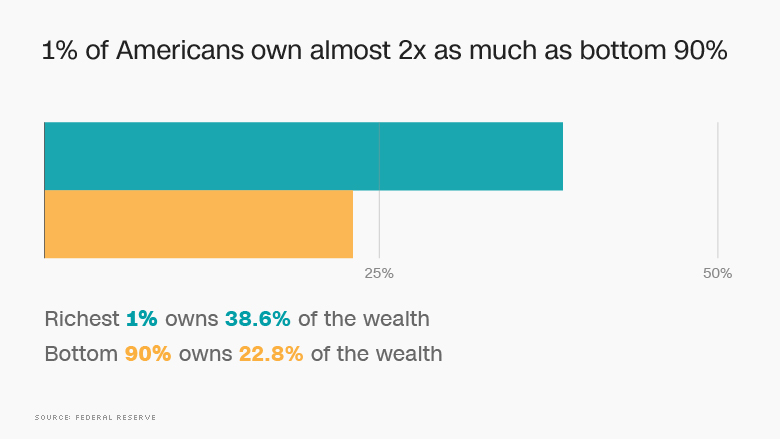 This can't be real, right?
Like many, Dr. Bonham went over the reason:  "The entire economy, ability to purchase housing, kids schooling, when the bottom half of the income distribution lowers, it negatively affects the economy." The middle class drives the economy because they spend, and a declining middle class negatively affects the ability of the economy to grow. Feel free to read more about it here, from the Center on Budget and Policy Priorities. As it relates to real estate, if the median home income doesn't grow at least the pace of real estate prices, the middle class gets left behind in their ability to purchase a home. This has a cascading effect on the economy, and is one of the chief reasons for the "affordable housing" issue we are facing now. It is even being reflected in the much higher median prices of condos and townhomes versus single family homes here on Oahu.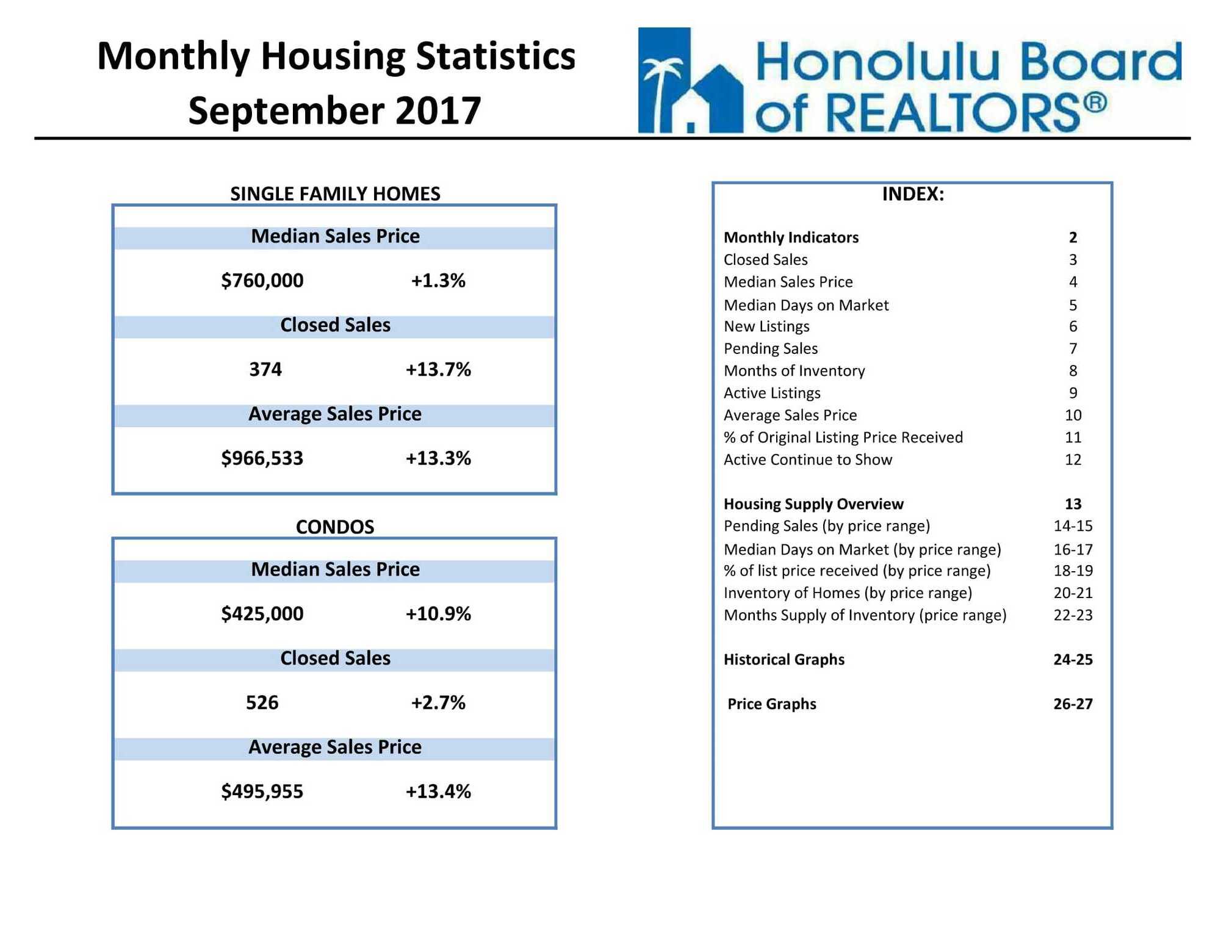 Most recent monthly statistics from the Honolulu Board of Realtors
With that said, there is always a silver lining.
You can summarize the video in: BUILD HOMES!!!! There's a lot of people working to accomplish that, some include:
 -Dr. Horton's Hoopili, a master planned community in Ewa with over 11,000 units and talked about by the Star Advertiser here
-Castle and Cooke's Koa Ridge, a master planned community in Central Oahu with 3,500 units
-Howard Hughes' master planned community in Kakaako, with 6 mixed residential buildings in the process, and 60 acres of oceanfront property in the heart of urban Honolulu
-Hawaii Construction Alliance – greasing the groove for affordable rentals, and can be found at the bottom of my blog post here or video below:
In summary (tl;dr), the economy in this recovery is in a continued slow growth environment and is expected to continue for the foreseeable future, with housing prices to reflect that.